I have a couple of fun new kits to show you. The first is one of my favorites by Scraps n' Pieces. I love it because they will custom make a kit just for you.....complete with your school mascot. Here is a look at the preview, but just remember that you get to pick the colors and your choice of gold or silver elements. I promise that you won't be disappointed!
I don't have any kids in high school but it worked well for my elementary aged kids
Scraps n' Pieces has some more layouts on their blog
HERE
and also a couple of freebies.
Rainamoon Scraps also has a new kit out called Rose Garden, inspired by her mother Rose. It is on sale for 30% off only at Stuff To Scrap.
I did this layout for the birthday celebration Recipe Challenge at Stuff To Scrap
And I made it into a quickpage for you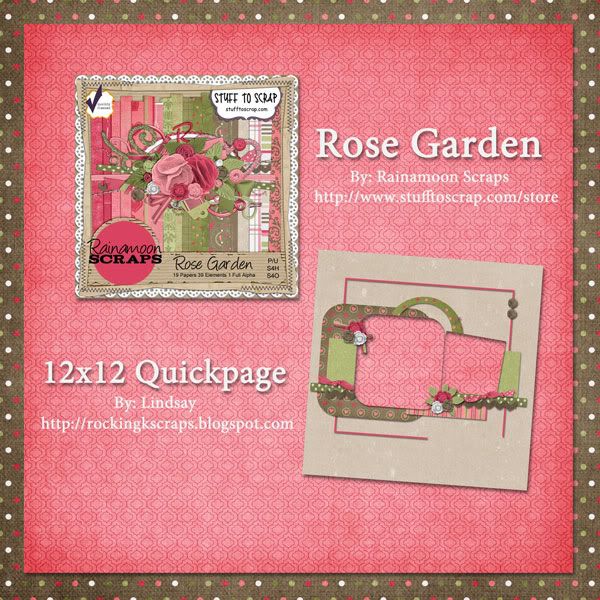 Check out
Rainamoon Scraps blog
to see some more layouts and snag some freebies. Also I wanted to let you know that Rainamoon Scraps is starting a Friday Freebie on her blog where she will be giving away a freebie every Friday. So make sure you check out her blog and get some fun stuff.
Stuff To Scrap is having a sale next week to celebrate their birthday. Plus there are lots of fun challenges going on in the Stuff To Scrap
Forum
all month long to celebrate their Birthday Month.
AmyDane Designs is hosting BINGO at Stuff to Scrap next week. Head over to
the forum
to find out the details and get your card filled out so you are ready to play!
Hope you all have a Happy Mother's Day and have fun shopping and scrapping this weekend!