AmyDane Designs has a new kit out called Something Beautiful.....and this kit is just that BEAUTIFUL! Here is the inspiration behind the kit.
About Something Beautiful
( A note from our CT member, Tammy, who gave us the inspiration for this kit: )
This kit was made in memory of my husband's late daughter, Kiya Renee. January 28, 2011 will be 5 years since she passed away. Each time my husband sees a butterfly, he thinks of Kiya; we say she is flying with the butterflies. She lived for 5 ½ years with cerebral palsy, battling surgeries and many illnesses. Through it all, she always had the most amazing smile & laugh. There's something beautiful about those moments in your child's life that may seem insignificant to others – my husband can remember all those moments with Kiya. The next time you see a butterfly, remember all those parents who have lost a child and remember to hug your child every night.
~Tammy
Kiya Renee
So when I read the inspiration behind this kit I had tears in my eyes. I wanted to find just the right pictures to scrap with this kit. Here is what I came up with.
Here is the preview of the kit (linked to the Store)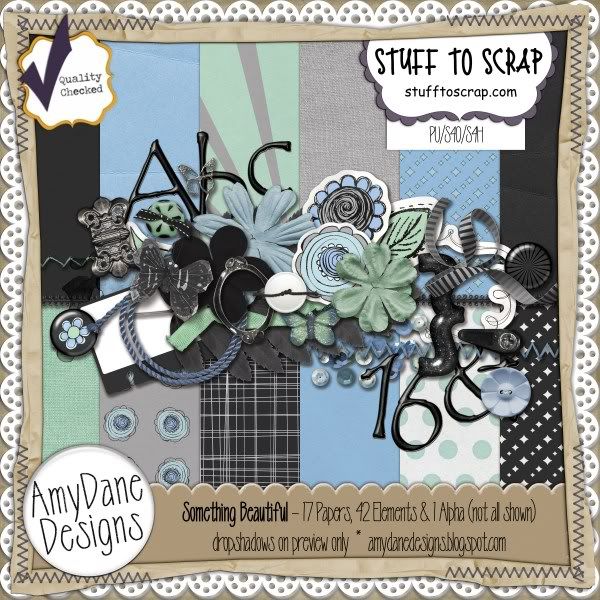 Also, Amy and Dana are hosting the Use It or Lose It Challenge this month over at Stuff To Scrap. So you can pick up the add-on for free this month and scrap a page to get points towards a gift card. Here is a preview of the add-on (Also linked to the store). If you are interested in participating in the challenge click
HERE
to be taken to the forum.
If you head over to
AmyDane Designs blog
you can see some more inspirational layouts from this kit and grab a couple of freebies.